The platypus (Ornithorhynchus anatinus) is a semiaquatic, egg-laying mammal endemic to eastern Australia, including Tasmania. Once upon a time, this species thrived across the eastern Australian mainland and on Tasmania, but now the population is diminishing due to a combination of habitat loss (deforestation and urbanisation), drought, wildfires, pollution, and predation from invasive species. The populations are declining in all states within the platypus native range, and it has already gone extinct in the Royal National Park near Sydney.
The Platypus is a legally protected species in Australia and listed as an Endangered Species in both South Australia and Victoria. The IUCN Red List classify it as Near-Threatened, but this might change soon since November 2020 report recommended it being moved to the Threatened category due to habitat loss.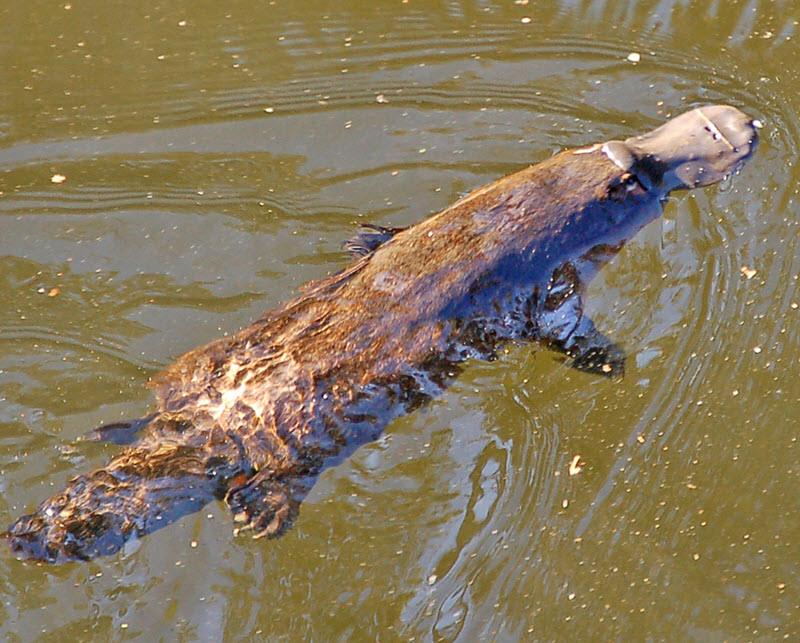 Restoring the platypus populations in the Royal National Park
The World Wildlife Fund (WWF) Australia, the University of New South Wales´s (UNSW Sydney) Platyputs Conservation Initiatives, the Taronga Conservation Society Australia, and the New South Wales National Parks and Wildlife Service have joined forces in Australia to complete a three-year long project where the aim is to restore platypus populations in the Royal National Park near Sydney. The hope is also the generate useful data that can be applied to other platypus conservation project in the future. Local rangers are involved in the project, and are currently exploring what would be needed to set-up a River Guardian program for regions where future platypus rewilding projects could take place. Having local rangers onboard even before any rewilding takes place is important, as they can help find the most suitable locations for reintroductions and pintpoint dangers that could put the platypus at risk.
A joint task-force of rangers and scientists (including ecologists) will survery for platypus in and around the Royal National Park to confirm the population status and identify suitable reintroduction sites. When that stage of the project is completed, sites with large platypus populations in other parts of Australia will be surveryed and investigated so see if it would be suitable to move some individuals from them to the Royal National Park.
Before any reintroductions can take place, the project will also work with identifying what can be done to restore and improve platypus habitats and improve general ecoystem health in the Royal National Park.
Once all the pre-translocation steps have been completed, the hope is to reintroduce wild platypus in good locations within the Royal National Park. The team will then monitor their progress and see how successful their recovery is.
Why should platypus be reintroduced to the Royal National Park?
When a platypus is reintroduced to an ecosystem, it will fulfill its role as aquatic predator in that ecosystem. Having predators carrying out their normal behaviours is important for the overall health, diversity and balance of the Royal National Park ecosystem. Introducing platypus to the park is one of many steps required to restor its ecosystem to function more like it did 300 years ago.
Reintroducing and monitoring the platypuses can also provide researchers with important information about how this type of aquatic ecoystem works in New South Wales, and that can be helpful for future restoration projects.
Using innovative technology
Investigationg existing populations of platypus is a big part of the project, and if everything goes well there will also be a need to keep an eye on platypuses that are settling into their new life in the Royal National Park. Surveying, trapping and monitoring platypuses will involve the use of innovative methods and technical solutions, including special acoustic transmitters developed by UNSW´s Playtpus Conservation Initiative. Usng them for this project will hopefully provide the scientiftic community with a lot of valuable information, not just regarding platypuses but also about how to use these transmitters in the best possible way.
Disaster research
As a part of the project, researchers will investigate how platypus populations can be safely captured, transported and re-introduced into the wild. This information can become very important if there is a disaster in the future where intervention is required to save a platypus population in a certain area and relocate it to safer locations. Prolonged droughts and large-scale wildfires are already a big threat to the platypuses in Australia, and more intervention might be required moving forward.